AXA Joins Partners Beijing Life and Causa Health to Unveil New Inclusive 'Beijing Jinghuibao' Insurance to Close the Protection Gap
AXA Group, one of largest insurance group in the world, joined partners Beijing Life and Causa Health for the launch of 'Beijing Jinghuibao'- a new inclusive medical insurance product, through AXA Tianping, its fully owned Property & Casualty insurance company in China. Priced at RMB 79 per person per year, the new product is supplementary to Beijing's basic medical insurance, providing up to RMB one million in protection, as well as rich and convenient health management services in line with the Beijing municipal government's efforts to construct a comprehensive, multi-level medical security system.
AXA Group is a global leading player in the health space, with a 20-year history in China. AXA Tianping, AXA's P&C insurance company in China is one of the two underwriters of 'Beijing Jinghuibao'. AXA will draw extensively on its brand advantages as a leading global health insurer to promote the implementation of convenient, high-quality insurance inclusiveness aimed at benefiting more Chinese families.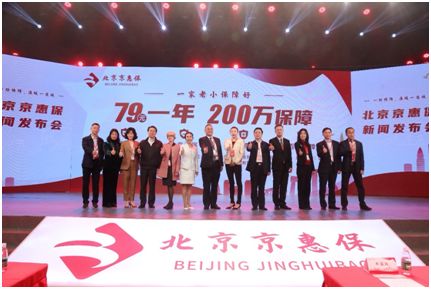 "Beijing Jinghuibao" Officially Launches Bringing Enhanced Health Protection to Beijing Families
AXA Supports and Helps Accelerate'Healthy China 2030'
Beijing Jinghuibao", a commercial insurance product launched under the guidance of relevant government departments, represents an important and innovative step forward in efforts to develop a comprehensive, multi-level medical security system in Beijing. It will also make a key contribution to further upgrading and improving China's overall medical security system in alignment with the central government's 'Healthy China 2030' strategy.
"The design and launch of 'Beijing Jinghuibao' is a remarkable achievement symbolizing the concerted efforts of multiple parties," said Zhu Yamin, Designated CEO of AXA Tianping. "As an insurance group leading in health globally, AXA is honored to be cooperating with leading companies in the industry as we employ our strong global expertise to provide trusted, worry-free health protection to Beijing residents in accordance with the strategic goal of 'Healthy China 2030'. AXA will continue to fulfil its role as a world-class brand and make every effort to bring the benefits of insurance to all."
During the launch event, in collaboration with Beijing Life Insurance, Causa Health, DrGroup and the China Youth Development Foundation, Ms. Zhu donated scholarships on behalf of AXA to excellent Beijing students to help in their academic studies and the realization of their ambitions.
AXA Focuses on Diversified Health Management Solutions
Health insurance is an area of focus for AXA Group, both globally and in China. AXA has always embraced a "customer-centric" approach and strived to become a partner to customers on their health journey. It does this by providing diversified health insurance products and solutions, covering wide-ranging medical needs including treatment for cancer and chronic diseases, as well as treatment overseas. AXA is currently leveraging its global purpose - "Act for human progress by protecting what matters" – to serve its customers and benefit wider society. Through the implementation of inclusive insurance, AXA is committed to playing an important role in improving the health management abilities of Beijing residents and supporting people's livelihoods, health security and well-being.
AXA has already been actively engaged in the field of health insurance and launched a series of diversified health solutions to meet the increasingly diversified health security needs of Chinese customers," said Kevin Zhou, Chief Health Officer of AXA Tianping. "We recently introduced a dedicated family doctor service through our newly launched product "Family Guardian". In addition, the AXA online medical concierge platform will be launched soon, which will serve Chinese customers with an even better health experience."
Commercial insurance is an important part of China's multi-level medical security system. By underwriting the "Beijing Jinghuibao" product, AXA is making full use of its professional advantages, extensive global resources, and rich experience in the Chinese market. AXA is proud to be incooperative partnerships with leading local companies to promote the implementation of insurance inclusiveness and empower more people's lives nationwide.
About AXA Tianping
A member of AXA Group, AXA Tianping is one of China's largest and most diversified global insurers, providing a comprehensive range of high-quality, personalized products and services to meet the evolving needs of customers across Health, Commercial Lines and Property & Casualty. The company currently serves over five million individual and commercial customers nationwide, and boasts a footprint of 25 branches in 20 provinces across China. Transitioning to a focus on Health, the company is today leveraging a customer-centric 'Payer-to-Partner' strategy in China, along with innovative technology and distribution, to empower clients in every aspect of their daily lives. Last year, the China Banking and Insurance Regulatory Commission (CBIRC) recognized its award-winning services with an "AA" rating, the highest in the country. In 2020, the company was recognized with an 'International General Insurer of the Year' award from Insurance Asia. AXA Tianping first became a member of the AXA Group as a Joint Venture company in 2014, before becoming fully owned in 2019. Headquartered in Paris, France, AXA Group itself is today one of the world's leading insurance and asset management groups. In 2020, it was ranked 34th on the Fortune Global 500 List of the world's largest companies. It has been operating in China for over 20 years offering the full range of insurance and protection solutions to its local and global clients.
AXA Tianping Property Insurance Co,. Ltd. October 20, 2020